WEDDING PHOTOGRAPHY AT QUEEN'S HOUSE, LONDON
As a London wedding photographer, James has photographed weddings at many different venues and locations throught Greater London, including the unique Queen's House in Greenwich, London .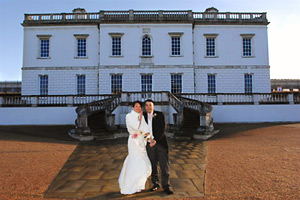 Unique Wedding Venue in London

The Queen's House in Greenwich, London borders the Royal Park of Greenwich. The Orangery and south lawns provide inspiring views across London's oldest Royal Park and up to the world-renowned Royal Observatory. A magnificent setting for your wedding photography. The interior also offers some beautiful and very unusual photographic settings.

wedding photography home | about | gallery | prices | wedding albums | wedding resources | contact

© 2010 James O'Brien Wedding Photography